Six Times Out Of Mind: How To Listen To The New FRAGMENTS Bootleg Series
There are now >75 separate tracks (versions or mixes) of songs from the Time Out Of Mind sessions that have been officially released. Here is one way to organize them.
In 1997, Time Out Of Mind gave us eleven songs. In 2008, four outtakes, and two official live releases appeared on Tell Tale Signs (TTS). Another half-dozen or so live releases were scattered across b-sides and promo-CDs over the years.
FRAGMENTS adds new mixes of the 11 original songs, plus 25 new outtakes, and 12 new live versions. Since it also includes the 12 TTS tracks, there are a total of 60 tracks on the 5 CD or 10 LP set packages. Add to those 11 originals, and a couple of the other b-side live tracks, and we're looking at playlist running about 8 hours for the 75+ songs we have (officially) from the Time Out Of Mind Sessions .
I don't know about you, but I don't want an 8 hour TOOM playlist. Instead, here are six logical groupings (and accompanying playlists for Apple and Spotify). The basic idea turns the tracks into six 'albums', three of the separations are obvious, and the rational behind the other three are explained below.
NOTE: An earlier version of this post, without the playlists, was sent to Paid/Premium members as part of our Pre-Release Series.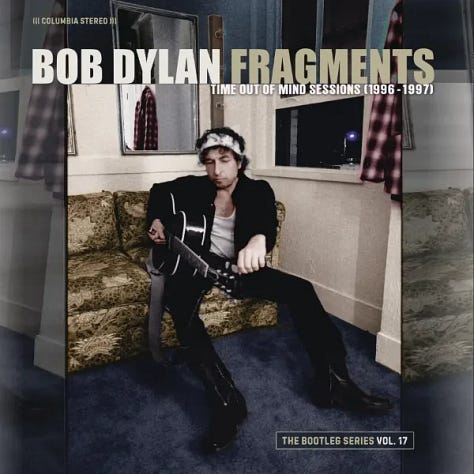 THE ORIGINAL DISC
This may be a somewhat controversial opinion in a few weeks, but I don't think the original Time Out Of Mind version is leaving regular rotation. The Dylan camp has the official attitude that the 2022 mix is just an alternative and not a replacement, and I believe that's true.
Despite everything nice said below about the remix, there is something magic in what Daniel Lanois and Mark Howard released. It's the base upon which everything below stands, and it's still an amazingly great record.
THE 2022 REMIX
Wow. Just Wow. You're drawn into every phrase and sound, the old and the new. It's easy to focus. You immediately want to hear everything again - lines, sounds, songs, then the whole damn album. It's just glorious.
The experience is not unlike what audiophiles experience when they get a better pressing, or hear an old favorite on a better system, or upgrade a key component: all of a sudden you hear new clarity, instruments you didn't notice before, a new tone or roll-off or resonance in the voice. You've heard Time Out Of Mind before, but never like this.
With all of that said, and I mean this as a distinct compliment, if you don't pay close attention and let your attention drift off, or are listening on a less than stellar system, it sounds like the same record. In fact, on some songs the change is rather slight and you have have to pay very close attention to notice it. But in any case, the core sound and feeling has not been reinvented - and that is a very good thing.
Playlist:
Fun Fact: Some of the 2022 Remix was done in December 2021.
THE OXNARD TAPES
When Dylan got to Oxnard, they weren't making album yet, they were thinking about it and getting to know each other. This is validated by the fact that they didn't bring in any musicians (Mark Howard disputes the liner notes claim that Tony Garnier was ever there.)
The sound and presentation and feeling of these seven takes is wonderful - it's 41 minutes of music, feels (with one exception) completely different to anything that happened later, and stand-alone it's a wonderful listen.
Hearing these songs relatively early in their lives and in the process of recording them we learn some things about them - but they're not sketches - they're surprisingly fully formed. I spent a ton of time with this playlist and think I will for the rest of my life.
Playlist:
THE NASHVILLE STRUMMERS
Talking to Mark Howard a few months ago, he referred two or three times to Daniel Lanois 'displeasure' with Bob inviting a bunch of musicians he called 'The Nashville Strummers' to the session. Strumming was not a sound Lanois had in mind. And you don't hear much on the finished original record.
But in the early days in Miami, at least as these tracks have been remixed; the guitars are there. I don't know which are Cindy Cashdollar, which are Bob Britt, what is Duke Robillard, what is Dylan himself - but the combination of these players and some early versions of songs that Bob has not yet slowed down and neither he nor Lanois have put into the soundscape that would dominate the album, result in an album length set of songs that do not yet sound like Time Out Of Mind.
All of these are from the first seven days in Miami, but not every song recorded in that time period is in this group. Some tracks, like Can't Wait, already had the TOOM feel in Oxnard and kept it early in Miami - it just hadn't yet been applied to everything else. I left songs that 'sounded like TOOM' off this list, and it's glorious.
This is perhaps the biggest revelation of FRAGMENTS. Time Out Of Mind songs aren't funky. They don't have a country feel. They would be entirely out of place on any of Bob's 80's records. Except all of those things can be said about the tracks on this playlist. It shows that what we think of as TOOM sound and style was a decision, not purely a result of who was there.
I think of this as the album that Dylan and Lanois (individually or together) didn't want to make. But now we have it - way more fun and enjoyable after having 25 years with the official album - but unlike many outtakes that are interesting curiosities to hear a few times, I can see coming back to The Strummers regularly.
Playlist:
We do cool Dylan stuff like this all the time. Become a free or paid subscriber.
THE GENUINE OUTTAKES
Something happened on January 14th. From that day forward everything sounds like Time Out Of Mind.
These are outtakes, alternate versions with lyrical and instrumental differences, but they're of the spirit of the finished product we know and love. Dylan (and Lanois and Howard) had found the pace, the tone, and the sound they desired or at least agreed upon (and the band members and band playing fell into line).
From this batch we can play the usual games; picking takes and tracks we wish had been chosen for the final album or building a new version entirely out of alternative 'outtakes only' takes, and still have a bonus disks worth of very listenable outtakes to the outtakes. That this can be done - credibly and enjoyably - without the Teatro tracks or most of the result of their first week in Miami, is just amazing.
Are there takes that are clearly better than those chosen for the finished record? There are lyrical marvels, phrasing genius, and stunning sounds. But having them as delicious bonus alt version seems right to me.
The playlist is ordered as a new 'alt' version of TOOM (with some necessary substitutions) and then all remaining tracks are 'bonus' after Highlands.
Playlist:
TOOM LIVE (OFFICIAL)
Lastly but not least-ly we have TOOM LIVE. This as we know is a very different approach to that same world. Most of us have heard any number of live versions of these tracks, but official is official, and these are all credible and wonderful.
I moved the two live tracks from TTS here, and will augment with all the other officially released live tracks for Time Out Of Mind songs - so it's a solid double-LP worth of sanctioned live Bob. That's good enough for now.
Playlist:
Bob Dylan at the Teatro from Mark Howard's Photo Book
Afterwords
A few comments about the above:
About Dylan FM
Dylan.FM's Season One has been a year-long look at Time Out Of Mind. We've shared 20+ interviews (podcast & video) with experts including original TOOM engineer Mark Howard and Remix Engineer Micheal Brauer, Authors Micheal Gray, Howard Sounes & Graley Herron, Dylan experts including Scott Warmuth, Laura Tenschert, and Matthew Zuckerman, and Musicians Robyn Hitchcock, Jeff Slate, and Wesley Stace.
We have a public podcast, and Premium Members get access to extended episodes that are 2x to 3x as long plus the interview videos, plus private posts, live events, our Dylanology resources, and more. We've recently announced our Season Two schedule for 2023. Join here or learn more at our full website.
We have no advertising, and are fully member-supported. If you don't want to join, you can contribute via our tip-jar. Thanks!
We also have a YouTube Channel full of great clips and live Dylan.